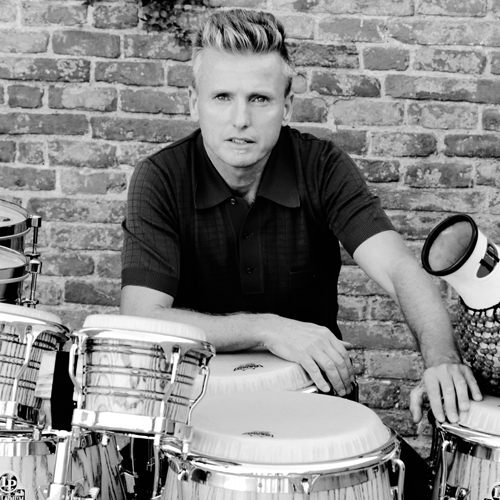 course of Latin Percussion
---
He started the study of percussions il 1989 attending the STIX academy in Perugia and the TIMBA in Rome, studying jazz drum with the artist GLAUCO OLENDRI.
He explored various etnical percussion techniques with various artists: CANDELO CABEZAS (Columbia), REINALDO HERNANDEZ (Cuba), MARCOS RODRIGUEZ DOS SANTOS (Brasil), BRAHIMA DENBELE' (Cote D'Avoir), CHINO ANGEL CHIANG (Cuba), ROBERTO DIMAS (Brasile), taking part of professional percussion lessons by famous artists as TRILOK GURTU(India), MARILYN MAZUR (Danimarca), ALEX ACUNIA (Perù), ARTO TUNCBOYCIYAN (Turchia), ELVIN JONES (USA), HORACIO HERNANDEZ (EL NEGRO) (Cuba), BOB MOSES (USA), and to a important seminary about jazz music by BEERKLY SCHOOL with Ron Savage, from Boston in Perugia for the Umbria Jazz event.
In 1997 his dream came true, and he took the first place at the "Concorso Nazionale B.I.A. PER BATTERISTI PERCUSSIONISTI", that took place at the DISMA in Rimini.
In the years he played and trained a lot of different musical genres as FUNKY, SOUL, DANCE, LATIN JAZZ, AFROCUBANA, SALSA, FOLCLORE ARGENTINO and ETNICAL MUSIC.
He also cooperated with a lot of important artists such as: LA SALSERA (salsa), SANDIA BLUE (Latin-Jazz), PAOLA FABRIS GROUP (Acid-Jazz), CAFFE SPORT ORCHESTRA (pachanga), DEL BARRIO (folclore argentino) ALEX BARONI (pop), LUCIO DALLA (cantautore), MARCELLO PIERI (cantautore), FUTURE DANCE (etnica), EUGENIO BALZANI (cantautore), DANCE FLORE(new age), JESTOFUNK (funky soul), with this last one he had a tornèe in Europe and Australia.
He works for commercials too, making music for brands (ADIDAS, LOREAL, FITNESS BRANDS).
In the years he learned a very productive and easy teaching method, that allows people in every age to get into the instrument.